Current Exhibition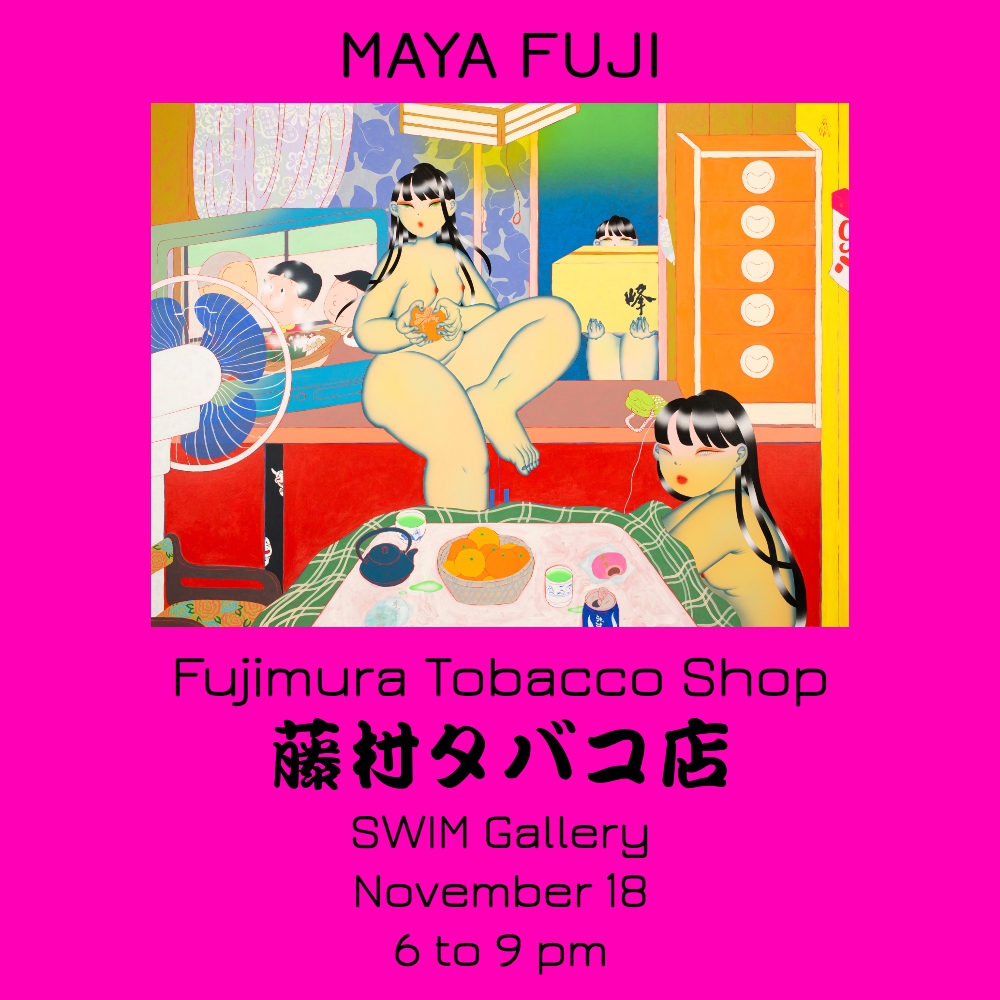 "Fujimura Tobacco Shop (藤村タバコ店)is a series of paintings created in remembrance of my Obaachan (Grandmother), chronicling an interrogation of how one stays connected to culture when there is no physical place to return to.
My Obaachan operated a small tobacco shop out of the front room in her home in Kanazawa, a small city in Northwestern Japan. I spent many months out of the year visiting her throughout my childhood, and would stay at her house during those times. The shop was a hub for people from the neighborhood, and nostalgic of old-school community gathering spots. Many characters from the neighborhood would stop by to smoke cigarettes as they caught up on gossip in the storefront. It was my home whenever returning to Japan from the SF Bay Area, where I immigrated to at an early age.
My Obaachan and her shop were symbolic of my connection to Japan, and when she passed and her house caught on fire a few years later, I was very heartbroken. I realized the weight of this place I knew as home now only exists in my memories. As an Issei, or first-generation immigrant, it was my Obaachans stories and home that kept my relationship to my culture strong. The longer and further I was from my hometown, the more I felt my connection to this part of my identity slip away.
This series of paintings recreates imagery of my Obaachan's home through the fragments of my memory, often blending moments spanning over years. Each painting is full of stories from the time spent visiting her, alongside references to the traditions of Kanazawa. Local sweets eaten in early summer for health and good fortune sit on a table. The clam miso soup she always had waiting for us when we returned home from the U.S. is served alongside her specialty skipjack tuna sashimi. The ill omen of a two tailed cat walks past a room full of spirited portraits. A chair my Obaachan sat on waiting for guests to buy their cigarettes sits hauntingly amongst Tsukumogami, the Japanese concept of animism of old household objects who gain a spirit over a century.

Although some of these stories and symbols allude to loss and grief, there is also a joyful celebration of our culture and the profound beauty of day-to-day life in a typical Japanese household. Conceptualizing and painting this series was an uplifting act to mend and heal my own grief and loss. By enshrining my Obaachan's legacy in these paintings, I am reclaiming and creating a permanent connection to my Japanese identity and her being. This celebration of memory and diasporic experience is what connects me to the broader collective of Asian-Americans who are also preserving their own connections to culture and heritage. While remembering and generating pride, I place this as a central theme in my heritage as a radical act of reclamation." - Maya Fuji